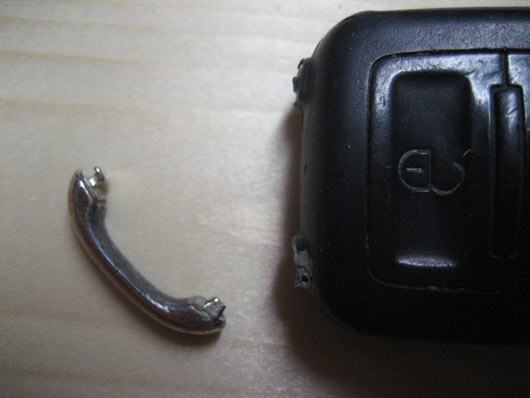 I drive a 2002 Jetta, which has this super cool flippy key that has the power to unite all races under one banner.
This, however, cannot be complete without a key ring. The chrome bar that comes attached really doesn't do the job, and mine broke a while back. The folks at VWvortex forums were quick to provide a DIY fix, which I've done my best to chronicle.
First, I tried super glue. That worked for a total of .0000333… seconds. Second, I tried JB Weld, which is supposed to hold together two cheetas running full speed in opposite directions. This worked for about double that time. For the record, I do not chalk this up to the inferiority of these products, but the idiocy by which this VW key ring was designed.
After these failed attempts, I ripped the key in half (which can literally be done by just pulling the two halves apart, see below).
I then proceeded to VWvortex, and found exactly where the board inside was located, so I wouldn't drill into it. What you want to do is drill in the corner where the panic button is, opposide side of the key. I used a 1/8 inch drill bit, which allowed a smaller key ring to fit through, albeit quite snugly.
Viola! My key, as well as my manhood, are now whole again. Reply below if you have questions.
Comments (
96

)
s

smith

m

mashcode

M

Mike

K

Kenzie

C

Corie

B

BeerKnurd

j

jessica

L

Lisac

A

Abdul

M

Matt

r

rich

r

rich

r

rich

C

Christy

C

Charlie

C

Christie

j

janet

A

Adam

m

michelle

A

Ally

K

Kat

D

Derek

B

Brodie Smith

S

Sara

A

Amanda

M

Marin

P

Peter

M

Monty

R

Rabi

G

Grace Cambra

D

David Boh

r

ronbo

J

Jenny Tough

D

David

A

Aevan

Z

Zirschkyd

L

Lisa

S

Sam

D

Dina

D

Daniel

T

Tahoe Kat

L

Laura

S

Shannon Niven

G

Grant

J

Jack norton

S

Saundra

J

Jill O'Meehan

l

liz

D

David

M

Michael