The Signage of Pittsburgh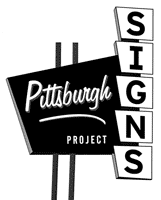 There are some kick ass signs in Pittsburgh…
… signs that define our city, both socially as well as economically. Many of them tell stories of our past, and some even point to events yet to pass. Many also can serve the starving artist, as iconic images of reference. Luckily, you don't have to go out and chronicle them all yourself. They've all been painstakingly laid out for you already by a group called The Pittsburgh Signs Project.
The Pittsburgh Signs Project has also just put out a book, Pittsburgh Signs Project: 250 Signs of Western Pennsylvania. The book is filled with some amazing full color photos taken from area artists, and is definitely a coffee table gem if there ever was one. The book is listed at $29.99, but you can find it on amazon here for just over 20 bucks.
On top of that, they have a facebook group, and here are a few links to some sweet flickr feeds on signage of the Burgh:
http://www.flickr.com/photos/47211597@N00/sets/72157614779435468/
http://www.flickr.com/search/?q=pittsburgh%20signs&w=47211597%40N00
All in all, I was very taken aback and impressed with such an undertaking. I now have new respect for the signage of the Burgh.
_Rob